General Health
10 Best Shampoos for Men in India
By Apollo Pharmacy, Published on- 20 November 2023
Almost every minute you will probably see an advertisement of a brand claiming their shampoo for men to be the best and in a day you are bombarded with thousands of such ads. This not only confuses you in making the right pick but also often guides you in the wrong direction and such mistakes you definitely can't afford to make when it comes to your hair care regime.

To aid you in making the right choice, we have prepared a comprehensive listicle of the best 10 shampoos for men in India, all handpicked keeping in mind their popularity and customer satisfaction rate. So if you are looking for anti-dandruff shampoos for men or simply searching for a daily-use shampoo to keep your scalp clean, here are the 10 best options you can rely on. All you need to do is to make the pick as per your hair and scalp needs. So, to find you the best hair shampoo for men, let's begin.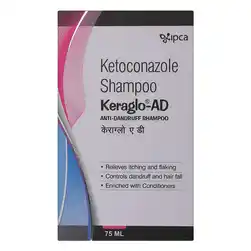 If getting relief from scalp itchiness and white flakes is your primary motive, this anti-dandruff shampoo for men is a true game-changer. It contains 2% ketoconazole that treats seborrheic dermatitis, a common condition causing dandruff and an itchy scalp. The ketoconazole also acts as an antifungal medicine that binds to the fungal cell membrane and inhibits its growth, thereby reducing itching and irritation. The Keraglo AD Anti-Dandruff Shampoo gently cleanses the scalp, removing excess oil and dead skin cells.

Key Features:

- Contains Ketoconazole IP 2.0% w/v
- Powerful anti-fungal and anti-bacterial action
- Has a conditioning effect on hair
- Relieves dry and greasy scaling of the scalp
- Comes in a convenient 75ml bottle for on-the-go lifestyles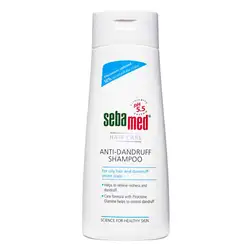 If you have oily and dandruff-prone hair and scalp, nothing promises to be better than the Sebamed Anti-Dandruff Shampoo. It contains piroctone olamine, an active ingredient that helps to eliminate dandruff-causing microorganisms and prevent their proliferation on the scalp. This shampoo for men contains a gentle cleanser that ensures effective cleansing of your hair and scalp. Enriched with moisturising agents, this shampoo helps to soothe and hydrate the scalp. With a pH value of 5.5, the same as healthy skin, this shampoo helps stabilise the skin's natural protective barrier.

Key Features:

- Contains piroctone olamine that prevents the growth of dandruff-causing fungi
- Moisturises and nourishes both the hair and scalp
- pH-balanced formula suitable for all hair types
- Gentle on sensitive scalps and colour-treated hair
- Free from parabens and phthalates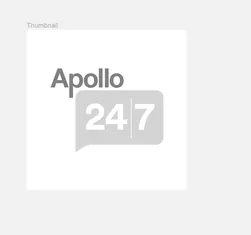 Hair loss is becoming quite popular among men owing to poor lifestyle choices, usage of poor quality cosmetics products, over usage of hair dryers and environmental factors like pollution. If you are affected and looking for a solution, the Sebamed Anti-Hairloss Shampoo is worthy of attention. It promotes hair growth and improves hair density with its NHE complex, a combination of caffeine, ginkgo biloba and niacin. The unique combination of pea protein, soy protein and guar seeds regenerate the structure of hair. The product is enriched with the essential nutrient vitamin B5, which works to fortify and enhance the resilience of hair, effectively safeguarding it against breakage. The shampoo also reduces fungal growth on the scalp.

Key Features:

- Caffeine stimulates hair growth and strengthens the roots
- Ginkgo biloba improves blood circulation to the scalp and promotes hair growth
- Vitamin B5 to strengthen hair and prevent breakage
- Contains pea protein, soy protein and guar seed extract
- pH of 5.5 and soap- and alkali-free
- Contains mild wash active substances
- Dermatologically tested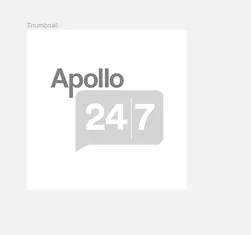 This dermatologically-tested anti-dandruff shampoo for men can be yet another effective choice if you want to get rid of dandruff and halt its recurrence. The Scalpe Pro Daily Anti Dandruff Shampoo contains climbazole and zinc pyrithione that effectively treat dandruff and seborrheic dermatitis to eradicate white flakes and itchiness from the root. The shampoo exfoliates the scalp, removes dead skin cells, and soothes and hydrates the scalp. It also conditions the scalp and the hair and is therefore counted among the best shampoos for men.

Key Features:

- Climbazole & ZPTO enriched formula
- Reduces itching and irritation caused by dandruff
- 3-way action formula for conditioned hair
- Moisturising agents to soothe and hydrate the scalp
- Gentle exfoliation action
- Comes in a portable 100ml bottle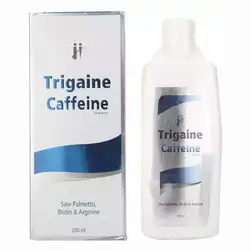 Combatting hair fall will now be easier with this caffeine-based shampoo. The Trigaine Caffeine Shampoo is enriched with saw palmetto that prevents hair loss and promotes healthy hair growth. Biotin (vitamin B7) present in the shampoo strengthens your hair and accelerates hair growth. It also contains arginine which is a naturally occurring amino acid in the hair follicles with restructure fragile hair to reduce hair breakage.

Key Features:

- Caffeine stimulates hair growth and strengthens the roots
- Arginine & biotin nourish hair follicles and promote growth
- Saw palmetto prevents hair loss
- Gentle on the scalp and hair
- Improves hair density
- Suitable for all hair types including sensitive scalps and colour-treated hair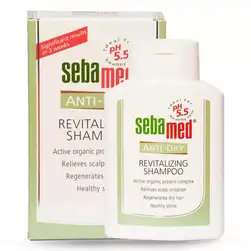 Finding a shampoo doesn't necessarily mean it has to be an anti-dandruff or anti-hairfall product. It can also be a shampoo that simply boosts the health of your hair and scalp. The Renocial Hair Revitalizing Shampoo is clinically proven to promote longer, thicker and healthier hair. It contains peptides that improve follicle size and promote new hair growth. The product effectively cleans and shields the hair from harmful pollutants and dust particles. Furthermore, it is enriched with Cell-U-Plex, an exquisite combination of organic plant extracts, essential vitamins, and enriching proteins. This unique formula imparts a profound thickening and strengthening effect.

Key Features:

- Contains peptides to promote hair growth
- Combats hair thinning, hair loss and frizzy hair
- Blend of pure plant extracts and vitamins strengthens and improves hair vitality
- Designed to create a healthy environment for hair restoration
- Reduces hair loss and improves hair thickness
- Cleanses effectively while protecting against pollution and dust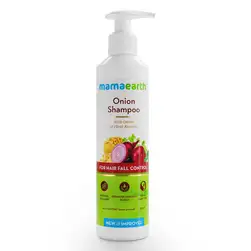 If you are on the lookout for a naturally formulated shampoo to strengthen your hair, the Mamaearth Onion Shampoo is the option. It contains onion extract that is rich in sulfur, potassium and antioxidants to reduce hairfall and promote hair growth. The antibacterial properties of the shampoo fight scalp infections and dandruff as well. The presence of plant keratin strengthens hair and reduces breakage. Therefore, this can be hailed as the best male shampoo, if you prefer an organic formula.

Key features include:

- Free from sulfates, silicones, parabens, mineral oil and dyes
- Onion extract reduces hair fall and promotes hair growth
- Makes hair soft and smooth
- Nourishes hair follicles and improves hair strength
- Plant keratin to repair damaged hair and prevent breakage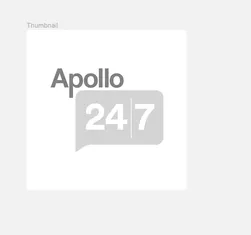 Next on the list is the Man Matters Anti-Hair Fall Shampoo which is slowly gaining popularity among men. This shampoo comes enriched with argan oil, caffeine and biotin repairs dry and damaged hair, and strengthens and nourishes the hair to reduce hair fall. The caffeine in the shampoo further helps in blocking DHT, which is a hormone generally associated with hair loss.

Key Features:

- Gentle cleansing formulation
- Contains caffeine to block DHT and reduce hair fall
- Enriched with argan oil and biotin for hair nourishment and growth
- Reduces hair fall and prevents recurrence
- Ideal for those experiencing excessive shedding, hair fall or thinning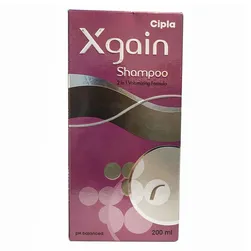 Flaunting the shine and volume will become easier once you implement this shampoo into your daily hair care routine. From the house of Cipla, the Xgain Shampoo is specially designed with almond oil, soy protein, jojoba oil and vitamin E to reduce hair breakage, improve hair texture, and prevent dandruff and hair loss. The Xgain Shampoo also offers relief from flaky and itchy scalp which is why it is included in the list of the best shampoos for men.

Key Features:

- Formulated with almond oil, soy protein, jojoba oil and Vitamin E
- Adds volume and shine
- Nourishes and strengthens hair from root to tip
- Controls dandruff and provides relief from itchiness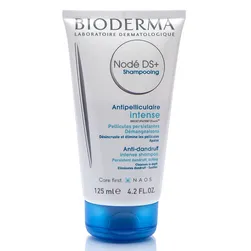 If you can stretch a little above your budget to pamper your hair and scalp in the best possible way, this anti-dandruff shampoo for men can be a perfect choice. The Node Ds+ Shampoo is formulated according to the ecobiology principles to respect the skin ecosystem and preserve its health. The DSactive™ patented complex acts effectively to minimise sebum production to prevent the growth of Malassezia yeasts responsible for dandruff. It is enriched with kerato-regulating agents that flush out severe dandruff. The anti-dandruff shampoo also contains soothing agents that provide long-lasting relief from an itchy scalp.

Key features include:

- Contains salicylic acid, piroctone olamine and zinc gluconate
- Suitable for severe dandruff issues
- Reduces the growth of yeast on the scalp
- Exfoliates the scalp and removes dead skin cells
- Free from harsh chemicals
- Gentle on the scalp and hair, suitable for all hair types

How to Use Shampoos for Men?
Wet your hair thoroughly.
Take an adequate amount of shampoo on your palm.
Massage it into your scalp and hair, forming a rich lather.
Gently work the shampoo through your hair, from roots to tips.
Leave it in for the recommended time mentioned on the bottle (usually 2-3 minutes).
Rinse off thoroughly with water.

Conclusion

With this list of the best male shampoos, you can now choose the one that suits your specific needs. Whether you're looking to treat dandruff, stimulate hair growth, reduce hair fall, or nourish your locks, there's something for everyone. If you are looking for a shampoo to treat dandruff, you can choose from Keraglo - AD Anti-Dandruff Shampoo or Node Ds+ Shampoo. If you are looking for a shampoo to prevent hair loss and promote hair growth, you can choose from Sebamed Anti-Hairloss Shampoo, Renocia Hair Revitalizing Shampoo, Man Matters Anti Hair Fall Shampoo or Xgain Shampoo.
Remember to follow the instructions provided by each product for the best results. Say goodbye to bad hair days and hello to healthier and stronger hair!

Services
Buy Apollo Products

Online Consultations

Order Online Test

Check Your Symptoms Here
General Health
Frequently asked questions
Usually, there's hardly any difference between shampoos for men and women. The formulation and ingredients are often the same, however, the fragrance and packaging may be different. Shampoos for men usually come with a masculine fragrance and packaging while shampoos for women usually use a floral or fruity fragrance and come packed in a feminine packaging.
Absolutely! The best shampoos for men are designed to provide overall hair care, so even if you don't have any specific concerns, using a daily revitalizing shampoo like Renocia can help keep your hair healthy, nourished and clean.
Not at all! Anti-dandruff shampoos for men can be used by anyone who wants to prevent or treat dandruff. They work by controlling the excessive production of sebum on the scalp and reducing flaking, making them suitable for both mild and severe dandruff cases in men.
Yes, men can use regular shampoos but using a shampoo specifically formulated for men's hair can provide additional benefits such as addressing specific hair concerns like dandruff or oily scalp.
The best shampoos for men should have ingredients that promote healthy hair growth, nourish the scalp, and address common hair concerns such as dandruff or dryness. Additionally, it should be suitable for daily use and have a refreshing scent.
Leave Comment
Services
Buy Apollo Products

Online Consultations

Order Online Test

Check Your Symptoms Here
Subscribe
Sign up for our free Health Library Daily Newsletter
Get doctor-approved health tips, news, and more.
Visual Stories
Plant-based Foods That Are a Great Source of Iron
Tap to continue exploring